Solid result from the Aalborg Portland Holding Group in a challenging market
Today, Aalborg Portland Holding A/S presented the consolidated financial statements for 2015 which, in spite of a net sales growth of DKK 138m to DKK 6,537m, showed a fall in earnings before tax (EBT) by DKK 98m to DKK 919m as a consequence of difficult market conditions in Turkey, the continuing economic downturn in Norway, and other factors.
In 2015, the Aalborg Portland Holding Group, including Aalborg Portland A/S, Unicon A/S and a large number of subsidiaries in Denmark and abroad, had an acceptable year, considering the difficult market conditions on certain markets. The net sales of the year amounted to DKK 6,537m equal to an increase of DKK 138m, when compared with net sales in 2014. Net sales have never been higher:
– We are pleased with the fact that we are able to increase our net sales and level of activities for the sixth year in a row, and it is very much due to a good balance between investments and global diversification of risks. For example, the 2015 development in Denmark and Sweden has been satisfactory, and in our primary markets in Malaysia, China, Egypt, and USA we really start reaping the benefits from our extensive investments over the past ten years, Henning Bæk, CFO at Aalborg Portland Holding, explains, and continues:
– Other markets, like the Norwegian and Turkish markets, however, have experienced a lower level of activities. In those markets, we have also been adversely affected by devaluation of the local currencies in 2015.
While net sales increased, earnings before tax (EBT) declined from DKK 1,017m in 2014 to DKK 919m in 2015. Management considers this development to be acceptable in a difficult market. The decrease is mainly attributable to the decline in activities in the subsidiary in Turkey, Cimentas, due to political uncertainty and the election in November, when several public investment projects were postponed. Cimentas also reported a financial write-down of its assets of DKK 75m.
The lower earnings have impacted the return on capital employed (ROCE). The Italian Cementir Holding S.p.A., who owns Aalborg Portland Holding, has almost DKK 10bn bound in Aalborg Portland Holding assets, and ROCE decreased from 11% to 10%:
– Obviously, our earnings must first of all be seen as compared with the capital our owners have bound in Aalborg Portland Holding. A ROCE value of 10% is lower than in other industries, so it is important that the major investments we have made, and will make, pay off with better results at the top and bottom lines, Henning Bæk explains.
Continued investments are the way forward – also in Denmark, if possible
Over the last couple of years, Aalborg Portland Holding has invested no less than DKK 3.5bn in developing markets and production facilities all over the world. In 2015 alone, we have invested almost DKK 400m in improvements, energy savings and environmental projects.
The Group's investments, however, often go to projects outside Denmark. More than 75% of the Group's activities today, take place outside Danish borders, and the Danish production has been reduced by 32% in comparison with the 2007 level. The heavily increasing taxes and levies on energy in Denmark have weakened the investment potential and competitiveness of the Danish part of the production. Aalborg Portland Holding works on specific plans to increase the production capacity in Aalborg in particular within the field of white cement, but this would require an easing of the Danish system of taxes distorting competition:
– The new Danish government has reduced the NOx tax, but it has not delivered the phase-out we expected. NOx tax has been reduced from DKK 25 to DKK 5 per kg, but at the same time the basic allowance has been removed, so we are still burdened by an annual NOx levy of approximately DKK 10-15m. Added to this remains the PSO charge equal to DKK 40m annually. NOx and PSO are special Danish levies amounting to DKK 175,000 per employee at the plant in Aalborg. This makes it difficult for our Italian owners to invest in production enhancements in Denmark, despite the fact that it is a big wish from both them and us, says Henning Bæk, who is looking very much forward to the political negotiations about a new package of taxes and levies later this year.
2016 earnings on par with 2015
Aalborg Portland Holding believes the market will develop positively in 2016, but the expectations to global economy growth are of a lower order than previously. Several markets experience major uncertainties, and high volatility is also expected in the foreign exchange market.
In the Nordic & Baltic region a slight increase in building and construction activity is expected in Denmark, which remains the Group's largest single market. The market is positively affected by a small number of large commercial and infrastructure projects, while activities in other segments remain historically low. Activities in Sweden are expected to grow based on a strong economy, while low oil prices in Norway continued to contribute to a negative development in construction activities there. The Overseas business area as a whole is expected to show improved net sales and earnings. This particularly applies to the markets and plants in Asia, including the factory in Malaysia. We also expect increased earnings due to optimisation of the production in Egypt.
In Turkey, the difficult market conditions are expected to continue, but modest growth in net sales is expected within both cement and ready-mixed concrete as well as improved earnings in waste management. However, devaluation pressure on the Turkish lira is expected to continue.
Despite continued low growth in a number of important markets, 2016 earnings for the Aalborg Portland Holding Group as a whole are expected to be on par with 2015.
Facts
In 2015, Aalborg Portland Holding saw net sales of DKK 6,537m against DKK 6,399m the year before. EBT was DKK 919m against DKK 1,017m the year before.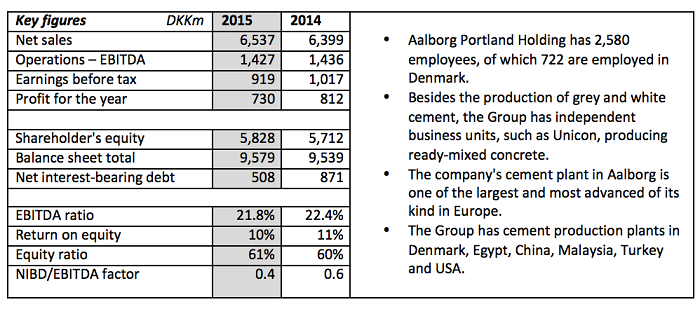 The Aalborg Portland Holding Annual Report 2015 is the first one following changes in the Group structure which were implemented with effect from 1 July 2015. In the new structure the activities relating to cement production in Aalborg have been transferred to a new subsidiary, Aalborg Portland A/S, which includes the sales subsidiaries in Iceland, Poland and Russia. The parent company subsequently became purely a holding company and besides its shareholdings in i.a. Unicon A/S (Denmark), Cimentas A.S. (Turkey) and the enterprises in Egypt, Malaysia, China and USA, the holding company owns all of the shares in the new Aalborg Portland A/S. With this change, a simpler and clearer operational and financial structure has been created.